Homes in Douglas County, Colorado
Douglas County is recognized for being one of the most family-friendly communities in Colorado, offering a quality of life unmatched elsewhere in the state. In 2021 Douglas County was named the 2nd healthiest county in America, according to the 2021 Healthy Communities rankings by U.S. News and World Report, released in collaboration with the Aetna Foundation. Douglas County was ranked 2nd in the nation in 2020 and in 2018. The County topped the annual list in 2019.

In 2019, Douglas County ranked in the top ten happiest Counties in the United States.

In 2016 Douglas County ranked as a top Digital County in the U.S. Specifically the County ranked number nine in the top ten of the 117 U.S. Counties in the 250,000-499,999 population category as one of the most technologically innovative counties in the nation for initiatives that save tax dollars; boost transparency; cybersecurity and civic engagement.

Douglas County also ranks particularly well in the household income, homeownership rate, and educational attainment categories. Combine those with our great location, excellent schools, wonderful weather and outstanding recreational and cultural opportunities why more than 300,000 call Douglas County their home.
List of Zipcodes
| Zip Code | Zip Code Name | Zip Code Population |
| --- | --- | --- |
| 80016 | Aurora | 68,849 |
| 80108 | Castle Pines | 30,595 |
| 80104 | Castle Rock | 34,010 |
| 80106 | | |
| 80112 | Centennial | 38,146 |
| 80116 | Franktown | 4,270 |
| 80126 | Highlands Ranch | 45,786 |
| 80118 | Larkspur | 6,127 |
| 80124 | | |
| 80134 | Parker | 75,123 |
| 80134 | Parker | 75,123 |
| 80135 | | |
Demographics
| | Zip Code | City | County | State | National |
| --- | --- | --- | --- | --- | --- |
| Population | — | — | 351,154 | 5,759,582 | 331,426,769 |
| Population Density | — | — | 1,167.0 | 55.5 | 93.8 |
| Percent Male | — | — | 50.0% | 49.0% | 49.0% |
| Percent Female | — | — | 50.0% | 51.0% | 51.0% |
| Median Age | — | — | 41.0 | 40.2 | 39.0 |
| People per Household | — | — | 2.9 | 2.8 | 2.6 |
| Median Household Income | — | — | $114,156 | $115,942 | $61,963 |
| Average Income per Capital | — | — | $61,155 | $50,725 | $33,235 |
Market Data
| | Zip Code | City | County | State | National |
| --- | --- | --- | --- | --- | --- |
| Median Sale Price | — | — | $550,500 | $425,100 | $277,796 |
| Median Age of Home | — | — | 33.0 | 39.0 | 49.0 |
| Homes Owned | — | — | 77.0% | 67.0% | 58.0% |
| Homes Rented | — | — | 18.0% | 23.0% | 31.0% |
| Homes Vacant | — | — | 4.0% | 4.0% | 11.0% |
Market Trend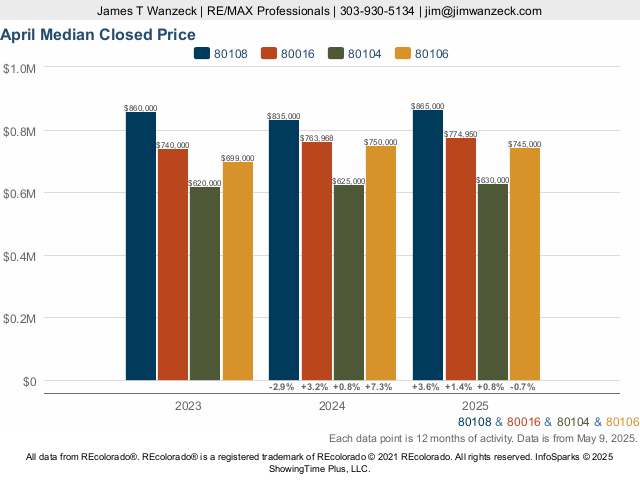 55 properties on market
Contact Us
RE/MAX Professionals
6020 Greenwood Plaza Boulevard
Greenwood Village, CO 80111, USA
Quality of Life
| | Zip Code | City | County | State | National |
| --- | --- | --- | --- | --- | --- |
| Cost of Living Index | | | 116.0 | 110.0 | 100.0 |
| Health Cost Index | | | 124.0 | 119.0 | 100.0 |
| Commute Time | | | 27.0 | 25.0 | 24.8 |
| Commuting by Bus | | | 2.0% | 1.2% | 2.1% |
| Commuting by Carpool | | | 8.0% | 11.0% | 13.5% |
| Commuting by Auto | | | 83.0% | 80.0% | 79.1% |
| Working at Home | | | 7.0% | 5.2% | 4.7% |
Climate & Environment
| | Zip Code | City | County | State | National |
| --- | --- | --- | --- | --- | --- |
| January Average Low Temperature | °F | °F | 15.9 °F | 13.7 °F | 22.6 °F |
| July Average High Temperature | °F | °F | 89.5 °F | 77.5 °F | 86.1 °F |
| Annual Precipitation (inch) | in. | in. | 18 in. | 19 in. | 38 in. |
Schools & Education
Safety & Crime
Zip Code
City
County
State
National

Violent Crimes

Calculated annually per 100,000 residents

Assault
—
—
69.5
246.3
250.2
Murder
—
—
2.2
3.8
5.0
Rape
—
—
33.6
67.2
42.6
Robbery
—
—
19.2
63.6
81.6

Property Crimes

Calculated annually per 100,000 residents

Burglary
—
—
230.1
348.4
340.5
Theft
—
—
1,794.6
1,858.3
1,549.5
Motor Vehicle Theft
—
—
88.7
384.0
219.9
Take a photo of this QR code
to keep this website details